Chemically hazardous waste
1. Definition of chemically hazardous waste
Chemically hazardous waste refers to liquid or solid waste that contains chemically hazardous substances, which are defined as:
Substances whose treatment and disposal is regulated in some way by law.
Substances that are not regulated by law but have one of the following three properties:
– Ignitable or explosive
– Corrosive (strong acids and bases)
– Toxic (harmful to the human body or environment)
Substances that do not have any of the above three properties but are in a form that is difficult to dispose of due to their concentration or other characteristics
Rinsing water that has been used up to three times to wash containers that have come into contact with those waste materials
2. Separation and storage
Follow the "Classification chart of chemically hazardous waste" to determine waste class and store in an appropriate container. Please also refer to Table II-4-1 in Chapter 4 of Environment and Safety Guideline for more details in separation. If case you are not sure which class to separate, please consult ESC through Contact page.
Liquid waste
Other than class-B waste, store liquid waste in the plastic container (tank) designated by UTokyo. The tank's corresponding waste class (class-A,-C,-D,-E,-F,-G,-H,-I,-J,-K in total 10 classes) can be identified by its size and color. Contact the Environment and Safety officer at your faculty/school to get the tanks. See Designated plastic container for more details on max. capacity, expiration period, and how to return it.
For class-B waste (liquid containing free cyanide), there is no designated container. Prepare an appropriate plastic bottle by yourself and store the waste in it. Keep pH above 10.5, otherwise under acidic condition hydrogen cyanide, highly toxic gas, will be produced.
Solid waste
Separate based on its material type (i.e. paper, glass, plastic) and put in transparent polyethylene bags. Each bag should not exceed 10 kg in weight. Put a sticker with bar-code and its content information on each bag, the preparation of which is detailed in this page. Further, put the polyethylene bags in a larger polyethylene bag, and store in a bucket with lid (class-L waste) or an appropriate plastic bottle (class-B waste). Class-S waste (solid containing mercury) is collected on the occasion of Collection of mercury-containing solid waste together with fluorescent lamps and dry battery cells.
<Waste that needs special care>
Waste materials that cannot be collected at ESC
Waste materials that apply to either of below cannot be collected by ESC.
Substances that are dangerous to transport. For example, substances that explode when shaken.
Beryllium, Osmium, and Thallium
For these substances, the general rule is for the laboratory or division to keep them strictly stored. However, if they are in the form of waste reagents, then they can be consigned to ESC.
Polychlorinated biphenyl (PCBs)
Refer to Special waste.
Radioactive isotopes or substances contaminated therewith
Nuclear fuel materials or substances contaminated therewith
Under law, ESC cannot accept illegal drugs, stimulant drug ingredients, designated poisons, etc.
Waste liquids that are conditionally collected (Waste that requires permission number)
The wastes below need a permission number to be collected by ESC. Apply for permission number at least 1 week before the collection through permission number application form (only in Japanese).
Special flammable materials or materials likely to generate peroxides such as diethyl ether, tetrahydrofuran, and picric acid. Total concentration of these must be 10% or less to be collected (dilute if necessary) and apply for permission number. In case of DNA synthesis waste that contains diethyl ether, permission number is not necessary. Write「DNA合成廃液」in the manifest slip together with the information on its chemical composition.
Waste liquid or class-L waste that contains materials whose manufacture is prohibited by the Industrial Safety and Health Act.
Solid waste that contains dioxins.
Non-infectious liquid waste that contains mammalian or avian blood/body fluid.
Disposal of substances having concerns about ignition or other particular dangers, such as alkaline metals
In situations where deactivation is safely conducted, the same technical procedure can be continued as in the past. The deactivated materials can be disposed of as normal waste liquid or class-L waste. However, if you have even a slight uneasiness about the deactivation work, consult ESC via the Contact page.
When disposing of used palladium carbon or Raney nickel, contact ESC via the Contact page. If the material can be disposed of through the regular
collection as class-L waste, a disposal permission number will be issued. For disposal, be sure that the waste material is in a "wet condition."
For disposal of substances such as nitro compounds (dinitrobenzene etc.), metal alkyl compounds (alkyl aluminum etc.), malodorous substances (mercaptoethanol etc.), and poisonous substances (metal carbonyl etc.), which have concerns about particular dangers, ESC must be consulted beforehand.
3. Disposal request to ESC
Manifest slip
The waste generator should write in detail how the waste was generated and the proportions of contents on a manifest slip for requesting disposal of laboratory waste to ESC. All entries in the sheet must be made in Japanese and without using chemical symbols and abbreviations. Since only qualified persons are allowed to bring waste to ESC, the number on their certificate of completion of Environment & Safety Course must also be written. The slip consists of five pages: for fixing to the container, for submitting to ESC, for the transporter, for the division, and to be kept by the waste generator. All of them, except the one to be fixed to the container, are filed for management and kept for five years as records of the treatment.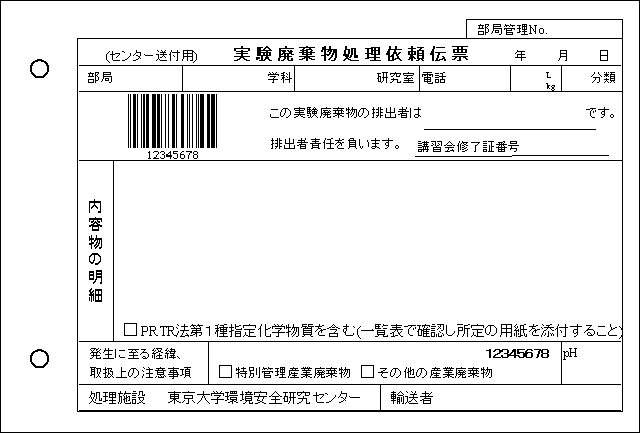 PRTR registration
If waste contains Class 1 substances designated by the PRTR system under the Law concerning Pollutant Release and Transfer Register or substances designated by the Tokyo Metropolitan Ordinance on Environmental Preservation, PRTR registration is necessary before collection. Complete in PRTR registration page (only in Japanese).
Collection
Regular collection by ESC is conducted at specified date and site for each faculty/school, which can be found Collection site and schedule. Bring wastes to the collection site safely.
4. Waste reagent
Waste reagent is defined to meet all the conditions below:
It remains in the same reagent bottle, etc. as at the time of purchase.
The reagent name is clear, with its label remaining.
It is a liquid or solid.
It is kept in a transportable state.
When disposal of a waste reagent becomes necessary, contact the official of
environment and safety administration at your division to confirm the method and date of disposal. Note that reagents containing osmium, thallium, or beryllium are collected by ESC after checking the request.
5. Waste of unknown composition
Waste and reagents of unknown composition (laboratory waste of unknown composition) cannot be treated properly. You cannot enter the name of the waste in the manifest slip for requesting disposal of laboratory waste, which is used when delivering waste to a disposal operator. In other words, laboratory waste of unknown composition cannot be accepted as waste
by society. The generator of such waste is responsible for this situation, and must strive to clarify the contents based on the conditions when found, interviews with other parties, and analysis, while paying attention to safe storage (do not open thoughtlessly).
The generator is responsible for identifying and notifying the contents of such waste, but if this is impossible, the generator may contact the EHS Office or the official of environment and safety administration at your division and dispose of the waste to ESC as laboratory waste of unknown composition.